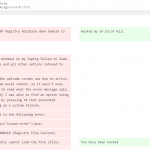 A collection of hackers left their calling cards here over the last week or so. I had been hacked, sometimes for the fun of it, other times with love.
Recently I received a notification warning of a Wordpress vulnerability in version 4.7.1 and was advised to update to a recently patched edition. Sadly I thought I had done this, but apparently not. The hackers were quick to take advantage.
The result was subsequently finding this site had been hacked 'just for fun'. The following image is what it looked like. Thank you General Hacker and friends.
Upon looking at the content that had changed, I found that it had been hacked several times over within a period of a few days, sometimes with love. It was stacks on hacks…