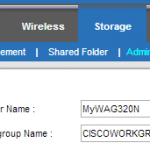 Recently I had a recurring problem whereby some files on the usb drive attached to the router would go missing. They still existed on the drive, but were hidden. Accessing the parent folder, it would be indicated that there were zero files within the folder.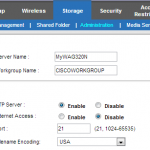 Recently I tried to set up FTP access to my Cisco Linksys WAG320N router but with no success. Searching Google, I was able to locate several forums and articles with incomplete solutions which were of no help.
Eventually I was able to figure out how to do this and decided to post my solution online.